Corpus Christi attorney trio lock arms with merger
mdreditor / 0 Comments /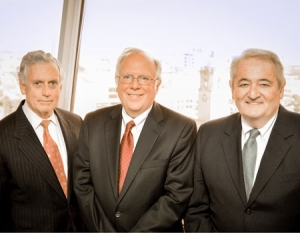 CONTRIBUTED PHOTO Three attorneys merged their law practices to more fully serve the area's growth. From left are Rick Fancher, state Rep. Todd Hunter, R-Corpus Christi, and Ed Barker, partners in the new firm Hunter, Barker & Fancher.
Posted February 18, 2014
caller.com
By Mike Baird
CORPUS CHRISTI — The surging local economy prompted three attorneys to merge their skills into a one stop law shop.
"We're forming a firm that's going to match what's happening," said state Rep. Todd Hunter, R-Corpus Christi, partner in the Hunter, Barker & Fancher law firm. Hunter's practice since 1978 includes insurance, commercial, banking, tort trial and appellate cases.
"The timing is good," Hunter said, "So we formed a firm that's going to match what's about to happen."
On Jan. 1 the three partners and three additional attorneys and support staff moved into revamped uptown offices. Attorneys Floyd Brown, Rod Handel and David Neblett join the team. The firm will focus on civil and commercial defense work, said the new firm's managing partner, Rick Fancher, who represents clients in the medical, legal, insurance and financial fields.
Fancher and Hunter have collaborated on cases for more than two decades. Both were admitted to the Texas bar in the late 1970s and have practiced in U.S., District and Circuit courts, among others.
Fancher and Ed Barker have been partners since 2000.
Barker's roots reach back to 1964, when he was admitted to the Tennessee bar, before moving to Texas in 1967 as command judge advocate at what is now Corpus Christi Army Depot.
Barker's practice has reached into South and Central Texas and beyond. It includes defense and serious injury claims. His corporate work includes product liability, workers' compensation, environmental, labor litigation and medical malpractice.
"Todd's group and our group have been defense lawyers all of our adult lives in one form or another," Barker said. "We're friends, and closely aligned on our viewpoints and what we have and want to achieve."
The firm is closely watching Eagle Ford Shale and its impact throughout the region, but their sights are set to be more all-inclusive, the partners say.
"It's Port development, Schlitterbahn and newly emerging industry too," Fancher said. "We want to make sure we're before the curve. We all have a wealth of experience, and that's what people need in any situation."
Twitter: @Caller_BizMike